Reserved Parking Now Available
Travelers can now reserve a premier parking space located in the lower level of the short-term garage, near the terminal. Quantities are limited and require passengers to enter an estimated arrival and departure date/time. Reservations can be made online or through the ParkMobile App. There is a $3.50 fee charged during the reservation process, then passengers pay standard short-term parking fees when exiting the garage after their trip.
 
NOTE: Our parking facilities are open 24/7. If you plan to park for more than 30 days, please contact Republic Parking at 208-343-8761. For your safety, The curb is for active loading and unloading of passengers and bags. DO NOT leave the vehicle unattended. Vehicles will be fined if left unattended for any period of time. (Per Boise City Code).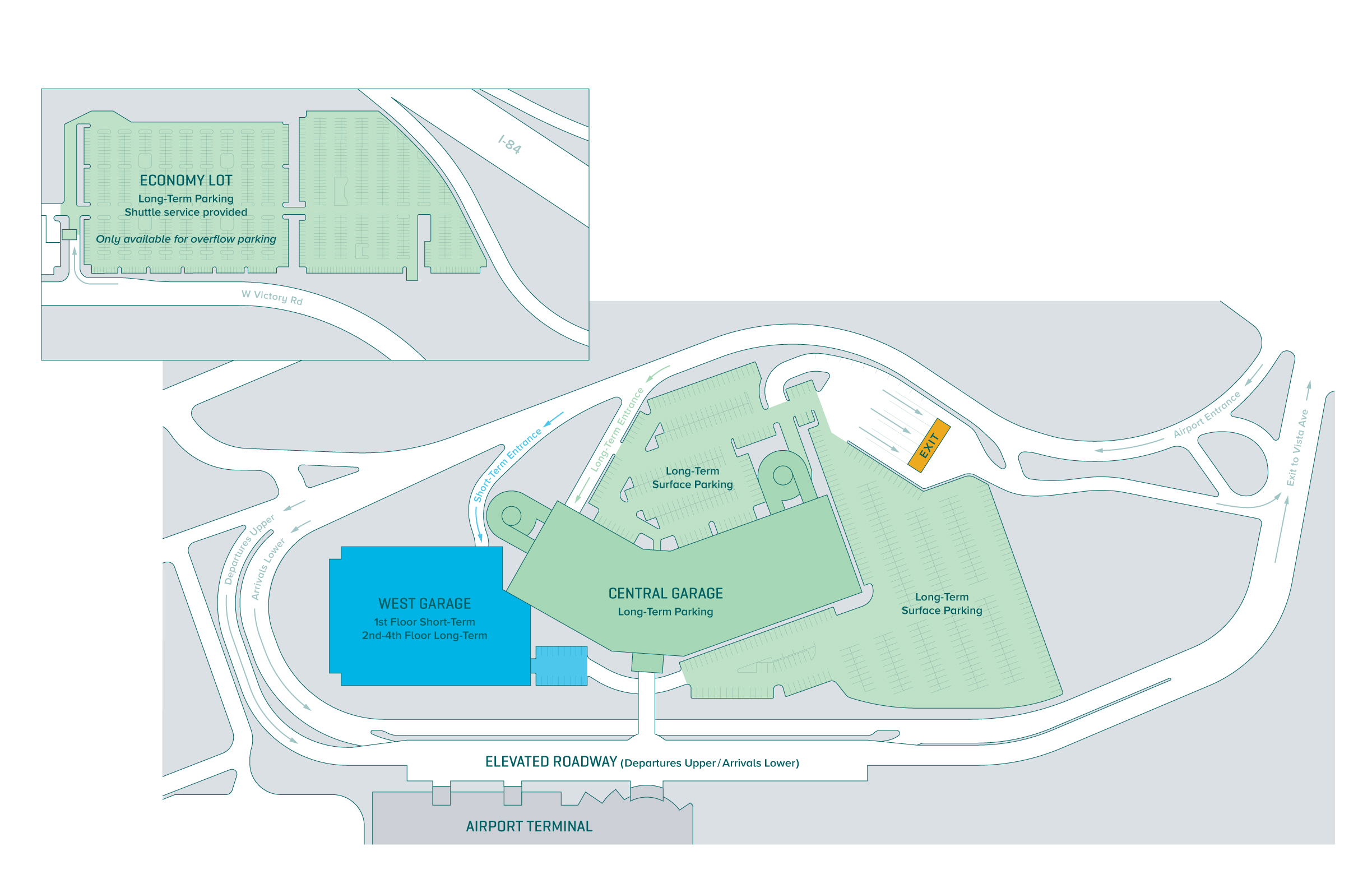 Parking Rates
Economy Lot (Shuttle)
$8.00/day | $2.00/hour
Long-Term Surface
$10.00/day | $2.00/hour
Long-Term Garage
$13.00/day | $2.00/hour
Short-Term
$23.00/day | $2.00/hour
Reserved Garage
$3.50 res. fee | $23.00/day | $2.00/hour
Reserve Now
Last updated 01/20/2022 @ 12:24 PM
The Economy Parking Lot Is OPEN
The Economy (Shuttle) LOT, located at Victory and Orchard (5600 W. Victory Road), is used for overflow parking when the close-in facilities have reached capacity. Shuttles run approximately every 15 minutes, and are available for return passengers daily. Watch the website and the Gateway Sign at the airport entrance for lot status updates.
Want to know where the Economy Lot Shuttle is? Download the "Ride Systems" app and choose "Boise Airport" to track the shuttle in real time.
Payment Made Easy
Self-Pay Parking System
At entrance, insert credit card to capture entrance date and time. At exit, use same credit card at any Express Park exit lane and gate will open.
Parking Ticket System
At entrance, take ticket. At exit, insert printed ticket, followed by a credit card, and gate will open. A parking staff is also available to process payments in cash. Pay-on-foot locations are available in the parking garage lobbies on the 1st and 2nd floors.
Cell Phone Waiting Area
The Cell Phone Waiting Area is located along the entrance road at the airport, it is a convenient place where a driver can wait for an arriving passenger free of charge.
Accessible Parking
Accessible parking is available in all airport parking facilities. A discount is offered to passengers with disabilities in the Short-Term ($23.00/day) and the Garage ($13.00/day). Present your placard to the cashier when you exit; parking staff will then discount these areas to the Long-Term rate of $10.00/day.
Electric Vehicle Charging Stations
As part of our sustainability efforts, four designated spaces and vehicle charging stations are available for electric and hybrid vehicles on the 2nd floor northeast corner of the West Garage. No additional charges apply.
*Online parking status information is not guaranteed to be accurate at the time of your arrival at the airport. Boise Airport is not responsible for misuse or misinterpretation of this information. For the latest information on parking availability, call Republic Parking at 208-343-8761.