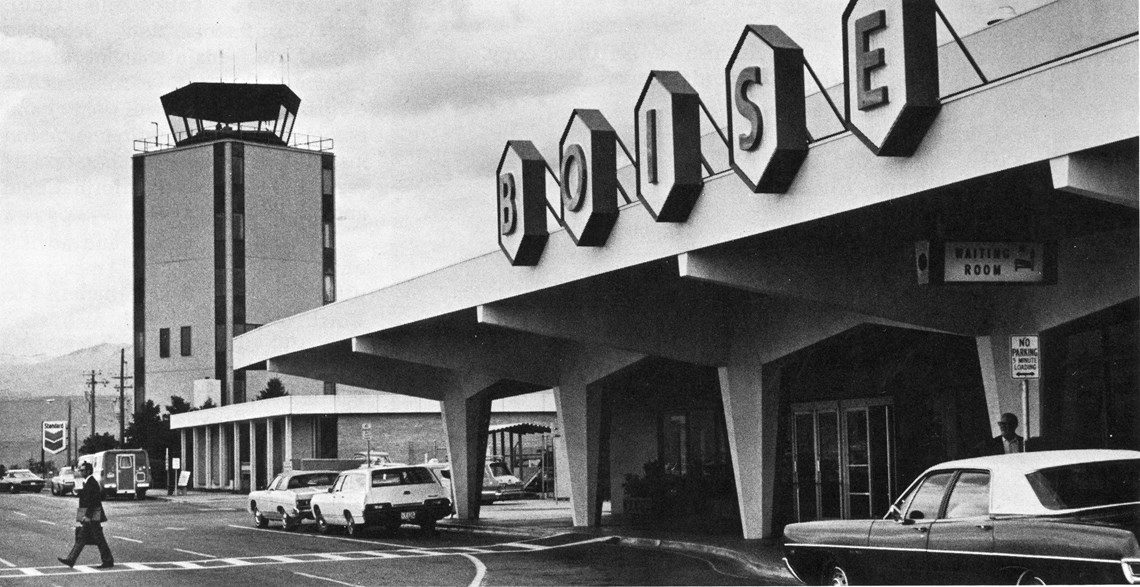 History of the Boise Airport
In 1926, the first municipal airport in Boise was built on a gravel bed where the Boise State University campus now stands. The first commercial airmail flight in the United States passed through this airfield on April 6, 1926, carried by Varney Airlines. Four years later, Varney, which would later become United Airlines, began hauling passengers from Boise - four at a time! United is recognized as the airline that has operated the longest out of Boise, 96 years as of 2022. This airfield also played host to Charles Lindbergh's Spirit of St. Louis on September 4, 1927.
The current airport has its origins traced back to 1936 when Boise began buying and leasing land for the airport. By 1938, Boise had the longest runway in the United States at that time, 8,800 feet (2,680 m) long. The steel hangar for Varney Airlines was moved to the present field in 1939. As the size of aircrafts grew, the hangar was no longer able to hold aircrafts and was converted into a passenger terminal. It was part of the modern terminal facility until the completion of the new terminal in 2003.
During World War II, the Army Air Corps leased the field for use as a training base for B-17 Flying Fortress and B-24 Liberator bomber crews. More than 6,000 men were stationed there during the war as part of the 303 Bomb Group of the 8th Air Force, including actor Jimmy Stewart who trained at Gowen Field.
In 1946 the field was turned over to the City of Boise which subsequently formed the Boise Department of Aviation and Public Transportation.
United Airlines was the first airline to bring jet service to Boise in 1964, flying Boeing 727's. The first concourse was built at the airport in 1969 at a cost of $1.5 million thanks to a voter-approved bond measure. A decade later, in 1979, the second concourse was built with the help of a $7 million voter-approved bond.
Boise Airport became home to the Boise Interagency Fire Center in 1968, which was created by a convergence of the Bureau of Land Management, U.S. Forest Services and National Weather Service firefighting operations. Other Agencies joined BIFC and the name was changed in 1993 to the National Interagency Fire Center.
In 2003, the current terminal expansion was completed at a cost of $108 million.
In 2013, a new Air Traffic Control Tower was built on the south side of the airfield, the tallest building in Idaho at that time. The tower serves Boise and Bozeman airports.