Advertise at the Boise Airport
The Boise Airport makes a great first impression for the region and its many businesses. Throughout the terminal, businesses and community organizations present their story with a variety of advertising options from banners to multi-media. To learn more about advertising in Boise Airport, contact Sandy Clark at Lamar Airport Advertising.
Boise Airport's advertising program stresses corporate partnerships in conjunction with a public art program. The ticket lobby mural, "River's Edge," and the routunda floor medallion, "Terra Firma," were successfully sponsored by Wells Fargo Bank and the Idaho Department of Commerce, respectively. Another public-private partnership program is the free WiFi in all public places in cooperation with the University of Idaho.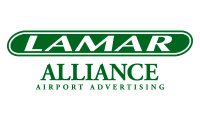 Sandy Clark
208-972-8409 
skclark@lamar.com